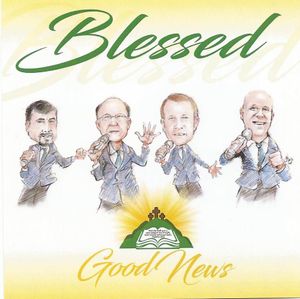 We have just completed the 8th Good News recording titled "Blessed".  This 13 song CD will feature a lot of toe tapping songs, along with some heartfelt ballads.  The guys did a great job with their selection of songs for this CD.  Songs to enlighten, strengthen, comfort, and revive any soul.  Studio musicians David Johnson and Richard Putnam put their special touch on each song.  A great message...great music...what more could you ask for!  For more info on Good News, check out their website.  www.goodnewshp.com   On Sale Now!!  
We are Good News from High Point, NC...telling the good news about a Savior who was sent to die for our sins. He was crucified, buried and rose again on the third day!! He will come again just like He said, and take us home with Him forever to stay. We are looking forward to the day when we'll make our last move.
To Contact Good News for an event at your church or venue call...
Tim Hunt
79 Harris Farm Ct.
Thomasville, NC 27360
336-476-3137
thunt1102@northstate.net
Doyle Ramey
817 Oakview Road
High Point, NC 27265
336-289-4512
336-688-7988
dramey@nothstate.net
Website: www.goodnewshp.com
0:00/3:03

0:00/2:39

0:00/3:00

0:00/3:49

0:00/4:12

0:00/2:44

0:00/3:28

0:00/2:57